You need temporary WiFi Internet and you need it fast. Our event WiFi rental kit is the perfect solution – providing quick, reliable connectivity at a fraction of the cost of traditional temporary Internet.
Here's how it works: you rent the wireless Internet kit and we bring it where you want it, when you need it, even if it's later that same day. Need a few wired connections for registration devices or POS machines at your fundraiser? No problem. Our talented team will deliver your WiFi hotspot rental and even set it up for you! The temporary event wifi rental kit is super easy to set-up. You'll be online in just a few minutes.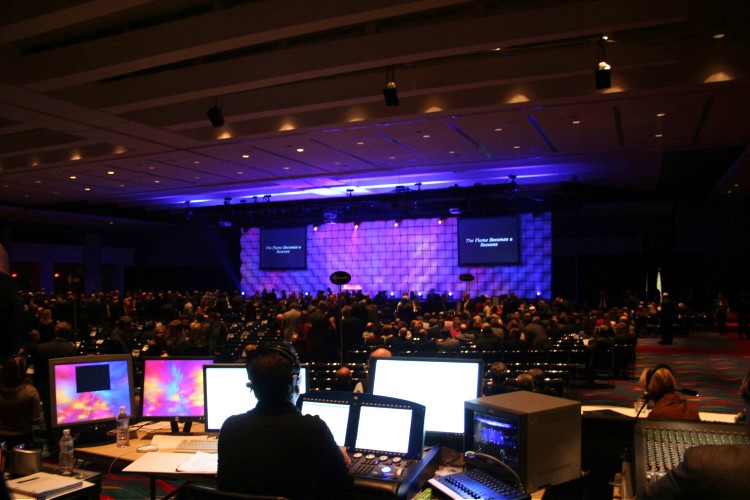 Made By WiFi's short term WiFi hotspot rental uses a separate modem and enterprise grade Ruckus access point for wireless connectivity superior to what the MiFi devices your cell phone carrier offers are able to achieve. Our temporary 4G Internet kits leverage bandwidth from the top carriers—Verizon, AT&T, T-Mobile and Sprint—allowing you to connect over 100 devices to your WiFi network. And you don't have to sign a contract with a cell phone provider or even leave your office to rent one!
Short Term 4g Internet Kit Rental Packages for Events starting at $499
Plus, you have options. We offer 3 different temporary 4G Internet Kit packages, all of which can be upgraded with add-ons and rented for as long as you need:
1.Power User 4G Kit
The Power User Event WiFi Rental Kit is a single carrier broadband WiFi hotspot, meant to support a few key devices that absolutely need Internet connectivity. This is an affordable rental option and can be secured with minimal notice. This kit works with laptops, smartphones, tablets, printers, photo booths, kiosks, POS devices and more. The Power User 4G Kit is powerful. 5G ready, it can push much higher speeds than a traditional 4G MiFi kit.
2. Core Team 4G Kit
The Core Team Event WiFi Rental Kit is a dual carrier broadband WiFi hotspot, designed to serve dozens of devices simultaneously browsing the Internet. Strong enough to support a small army, Made By WiFi's Core Team 4G Kit uses sim cards to bond the speeds of two separate carriers. This 4G rental kit is great for video streaming, VoIP and other high bandwidth applications. You don't need any IT expertise to go online, simply connect a couple of cables using our easy-to-read instructions and you're all set!
3. Showtime 4G Kit
The Showtime Event WiFi Rental Kit runs on 4 sim cards from the 4 major phone carriers: Verizon, AT&T, T-Mobile and Sprint. Connect up to 100 devices with speeds potentially over 100mb! This 4G rental kit is perfect for small events with several dozen connected devices. We recommend pairing this unit with multiple access points to extend your WiFi signal across a larger area. Like the two previous kits, you don't have to be an engineer to use our Showtime 4G Kit. The setup process is extremely simple, but we're happy to set it up for you, if you'd prefer.
| | | | |
| --- | --- | --- | --- |
| | Power User 4G Kit | Core Team 4G Kit | Showtime 4G Kit |
| Max Speed | 30mbps/15mbps | 60mbps/30mbps | 120mpbs/60mbps |
| 4G Sim Cards | 1 | 2 | 4 |
| Carriers | Verizon, AT&T, T-Mobile, Sprint | Verizon, AT&T, T-Mobile, Sprint | Verizon, AT&T, T-Mobile, Sprint |
| Number of WiFi Devices | 1-10 | 10-30 | 30-100 |
| WiFi Connection | Included | Included | Included |
Temporary 4G Internet Kits are ideal for:
Pop-up shops
POS devices
Production teams
Food vendors
Buses & Limos
TV show, ad & movie shoots
Short Term 4G Internet Kit add-ons include:
Additional WiFi coverage
Switches & Ethernet hardline connectivity
On-site support
Network reporting
6 Reasons to Rent a Temporary 4G Internet Kit & WiFi Hotspot for Your Event
1. Support for Every Device
We mean EVERY device: laptops, smartphones, tablets, printers, photo booths, kiosks, TVs, POS machines, etc… As long as your device can connect to WiFi, even if it's via Ethernet cable, it can work with our 4G WiFi Hotspot.
2. 5G Ready
Our 4G WiFi rental kits are 5G ready. As major carriers start supporting 5G Internet, our modems and access points will be able to take full advantage of the increased speeds and lighting fast connectivity.
3. No Contracts
You do not have to agree to any long-term contracts or credit checks and you only pay for the kit for the days that you use it. It doesn't get more honest and fair. Made By WiFi's 4G Internet kit is simple and convenient to rent. Just give us a call, tell us the dates you need it for and we will deliver your kit, or even ship it, that same day.
4. No Overage Charges
Need to stream video all day? You don't have to worry about throttled speeds because of high data usage. Unlike your cell phone provider, we won't charge exorbitant rates for data. You simply pay for what you use.
5. Network Customization
Want to greet guests with a custom network name or maybe a splash page? Maybe you need hardline connectivity for POS devices and an expanded WiFi footprint with multiple access points. No problem at all. Our event WiFi specialists will work with you every step of the way to tailor your event WiFi network to fit your vision.
6. 24/7 Telephone Support
Have a question about the 4G WiFi kit or maybe you want to talk to a sales engineer about adding-on some equipment to your rental? Call us at any time—we'll be happy to help you.
Made By WiFi's short term 4G Internet rental kits and hotspots give you 4G power, 5G potential and 6 reasons to believe that they are the perfect solution for your next event.
Call or email Made By WiFi's senior wireless specialists today to book your 4G event kit rental.