Wifi Solutions for Hospitals and Healthcare Facilities
December 28, 2017
Hospitals and other healthcare facilities around the country are adopting wireless networking at a rapid pace, for good reason. The installation of a wireless network goes a long way in boosting operational efficiency as well as patient morale. Made By WiFi is among the most efficient wireless network installation companies in New-York area and nationwide. Bold statement, but we back it up. Our talented team of engineers are skilled in wireless network installation for healthcare facilities including wifi solutions for hospitals, doctor's offices, dentist's offices, pharmacies, rehab centers, outpatient facilities.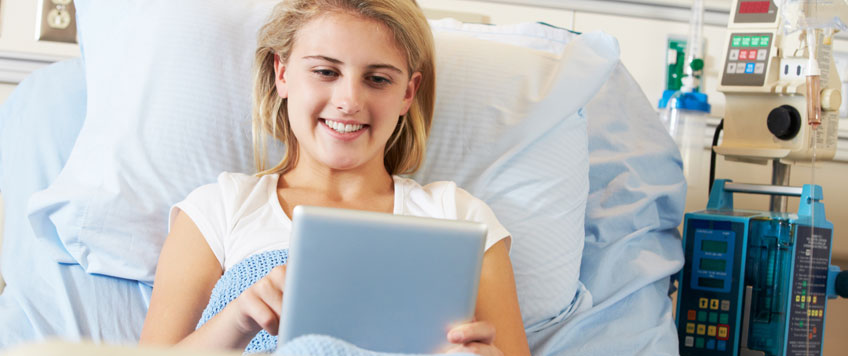 Reliable WiFi Solutions for Hospitals and Medical Industry
WiFi technology has made great strides over the past two decades. Today's wireless networking technology can support fast data throughput, making WiFi a viable tool for managing patient information and creating a mobile work environment.
Indeed, modern wireless access points use the 802.11ac wireless standard and can theoretically support throughput of up to 1gbps to a device. This allows medical facilities to seamlessly and securely transfer large digital files containing patient records between devices, without having to rely on wired connections. WiFi is changing the way healthcare services are delivered at a variety of medical establishments, including:
Hospitals
Clinics
Healthcare Facilities
Doctor's Offices
Dentist's Offices
Medical Practices
Pharmacies
Rehab Centers
Ambulatory Surgery Centers
Inpatient/Outpatient Facilities
Improve Patient Experience through WiFi
A long stay at an in-patient hospital can take its toll on a patient's mental health and slow the recovery process. They say that laughter is the best medicine—and there is evidence to prove it.
Hospitals that offer services that replicate the comfort of a patient's home witness a spike in satisfaction rates. Offer WiFi in your hospital or medical facility and grant patients access to the movies, podcasts and literature they love to improve the patient experience and expedite the recovery process.
Secure Wireless Networking Services for the Healthcare Industry
Responsible for the security of patients' medical histories and payment information, compliance with HIPAA law and data handling regulations is a priority for healthcare professionals. Violation can result in loss of patients' trust, high fees and other serious penalties.
It's crucial that medical practices looking to install a WiFi network choose a wireless network installation company with the equipment and expertise required to protect sensitive data and maintain HIPAA compliance. Prior to installing a WiFi network, Made By WiFi urges hospitals and other healthcare facilities to consider the following:
Physical Security – Your IT infrastructure and wireless networking hardware needs to be stored in a secure environment, with access limited only to those who need it. Security key cards or even biometric recognition should be implemented to ensure that equipment is never compromised.
Staff Education – Many HIPAA violations are the result of human error. Educating staff on best data handling practices can help mitigate potential violations. Regular training is required as technology changes and the medical industry adopts new methods of data transfer.
Network Security – Medical facilities that use the same equipment to offer patient WiFi as they do for internal operations need to make sure that network traffic is segmented. Total separation can be achieved through the creation of a unique VLAN for each user group along with varying internal security policies to accommodate each group's needs.
Post-Breach Reporting – In the event that a data breach does occur, it's important to have access to the tools and information to report the violation and pinpoint the network configuration flaws and/or end user activity that is creating such vulnerabilities.
An effective hospital wireless network design maintains HIPAA compliance and the similarly strict data maintenance rules and regulations that govern the healthcare industry.
Hospital Wireless Network Design
A successful hospital wireless network design is built upon the proper planning and keen attention to security details that only Made By WiFi can provide. Our first move is an active wireless site survey.
Installing WiFi in your medical practice will grant staff freedom of movement and save you money on cabling. When creating a mobile working environment for staff, there is no room for dead zones or areas of weak coverage. After all, freedom of movement requires quick speeds and reliable connections.
Unfortunately, medical offices are often hotbeds of wireless interference, with dozens of nearby wireless networks competing for signal space. Medical equipment, like MRI machines, broadcast their own radio frequencies, which can interfere with the healthcare facility's WiFi signal and cause slow speeds or dropped connections. A wireless site survey helps our team determine proper channel configuration and place APs in an arrangement that avoids dead zones and eliminates instances of dropped connections.
Hospitals and other medical facilities require active wireless site surveys before any type of wireless network can be installed. Site surveys should be conducted annually, as changes to the physical environment of the hospital influence signal strength. Never install a wireless network without an active site survey and never attempt to hack together a DIY solution.
Full Service WiFi Solutions for Hospitals and other Healthcare Facilities
Installing a wireless network at your hospital or healthcare facility will help you get better at helping patients get well.
Made By WiFi is the only member of the wireless network installation industry that truly understands the critical nature, complexities and concerns of yours.
Contact us today to schedule your site survey and take the first steps towards wireless mobility, optimal efficiency and higher patient satisfaction.