Small Business WiFi Solutions for New York City
September 30, 2021
Just opened Your New York City location? First of all, congratulations. If you can make it here, you can make it anywhere. Start spreading the news…if you can. New York City has a lot of resources to offer, but an optimal WiFi environment isn't one of them. Using the right small business WiFi solution can mean the difference between a productive day at the office and day pulling hair because of slow wireless speeds.
Whether your New York City location is a shared office space, a large, open office, or a retail storefront, you need a strong office WiFi solution you can depend on. If the quality of your New York City location's WiFi system has you wishing you were wired again, we can help. No matter your situation, our WiFi and networking experts possess the flexibility and experience to improve it.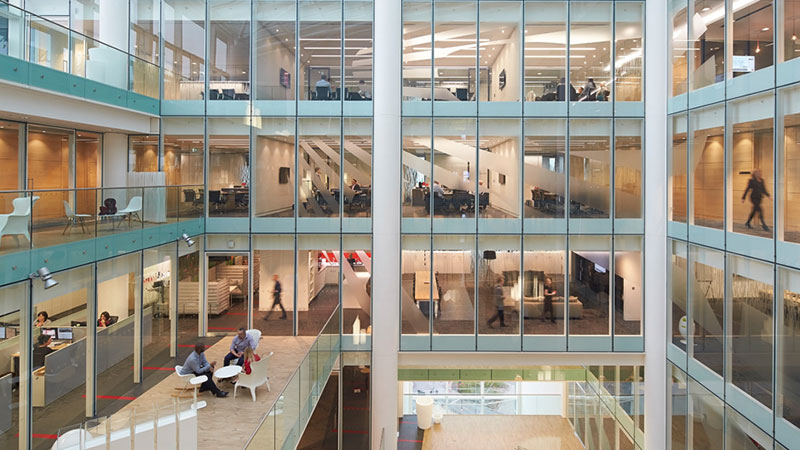 3 Reasons Your Small Business WiFi Solution May be Faulty
New York City's famous skyscrapers contain the offices at the heart of Corporate America. Whether yours is a startup company or an organization with 1,000+ devices spread-out across multiple floors and offices, there are computers, copy machines and other pieces of office equipment that rely on a strong and consistent WiFi connection to function. If you're experiencing WiFi-induced lag times or downtime, you're also experiencing suppressed productivity—a huge disadvantage when you're competing in the city that never sleeps.
We give you three possible causes of your poor WiFi and every reason to believe Made By WiFi is the solution.
1. An Open Floor Plan
"Comfortable." "Egalitarian." Say what you will about open seating offices, but this set-up is not conducive to quality WiFi connections and desks are often cluttered with Ethernet cables to compensate. We can fix this for you.
Solving your office WiFi issues starts with a solid plan. First, our engineers conduct a wireless site survey to identify potential points of failure. From there, we tailor our deployment to best meet your business' unique WiFi needs. Our experts will determine optimal access point placement, channel configuration and performance tweaks to make the most of your open office space and whatever equipment you are using.
2. Improper Small Business WiFi Installation
Perhaps your trusted, in-house IT staff installed and configured your WiFi system. We hate to say it, but if it isn't working well, they may not have configured it properly. It happens, especially in a city with a WiFi environment as tricky as New York's. We are not here to replace your IT team, we are here to work with them and impart our expert knowledge.
Think of us as an extension of your current team. Indeed, we are happy to adjust our schedule to fit yours. Our technicians will even install or maintain WiFi in your office after hours or on weekends, without charging you ridiculous overtime rates.
3. Competing Signals
Making it in New York City may be an entrepreneurial dream, but the city is an interference nightmare, with networks as congested as Times Square. Feel like you're constantly trying to reconnect to the Internet? Wireless signals from neighboring offices in all directions may be infiltrating your network and competing with your signal.
Look out of your office window and you probably see similarly large buildings all around. Each one contains hundreds of businesses, each likely broadcasting its own wireless network. All of these competing networks can cause massive wireless interference that drop speeds, signals and productivity—not to mention staff morale.
We work with leading WiFi and networking equipment manufacturers such as Ruckus, Cisco, Aerohive and Ubiquiti, and work within your budget to design a custom wireless network to optimize your Internet performance. Access the WiFi from anywhere in your office, including every conference room, break room and even the hallway, without interference.
Open floor plans, improper installations and competing signals, oh my! You may be in the city, but you're not out of the woods. In all three scenarios, subpar WiFi is to be expected, but it doesn't have to be accepted.
Business Class Wireless Network Solutions for New York City SMBs
Maybe you're not currently experiencing WiFi problems. Emerging trends and technology may soon change that. Contrary to what Taylor Swift says, New York waits for no one. You want to make sure you stay ahead of the curve.
Businesses are growing increasingly reliant on WiFi to complete their day-to-day operations. As technology evolves, so do our working habits. Employees are adopting flexible schedules that allow them to work from their home and your office, depending on that day's agenda. Employees are ditching traditional wired Ethernet connections in exchange for the flexibility that comes from working on a laptop, and rightfully so. Today's laptops are equipped with start-of-the-art wireless networking cards that work just as well as wired connections. Some laptops are super slim and don't even offer Ethernet ports for wired connectivity.
Retail businesses are also feeling the impact of the wireless revolution. Traditional point of sale (POS) machines that rely on wired Ethernet connections are going extinct. Replacing them are portable devices such as tablets and other wireless equipment that enable your customer service team to roam the floor and complete transactions wherever your customers are ready to buy.
Emerging trends in technology and ergonomics are making a strong WiFi connection more necessary than ever. Luckily for New York City business owners, we have an office WiFi solution that doesn't break the bank and can be installed with no downtime for your office.
Professional WiFi Installation for Businesses in NYC
To recap, good WiFi comes from proper knowledge and a solid plan. Bad WiFi can be caused by a number of hurdles. Common culprits include:
Physical Obstructions
Faulty Equipment
Improper Cabling
Poor Positioning
Now that you know all of the possible causes of your poor WiFi connection, you need to understand why there is really only one option when it comes to choosing a WiFi service provider for your New York City office or retail storefront. Here are 5 reasons why Made By WiFi is the perfect service provider for your business WiFi needs:
1. Flexible Small Business WiFi Installations
A service provider running cable and moving ladders in your office space can be very disturbing to your staff. Our team offers flexible installation schedules, so that we can install an enterprise grade wireless network in your office without interrupting your day-to-day operations. We offer nighttime and weekend installations for increased convenience and minimal downtime.
2. Niche Expertise
Other business WiFi providers may claim to be "experts" in WiFi but, in reality, their technicians are overworked, underpaid and forced to split their knowledge across multiple fields of technology that may have nothing to do with one another. Sure they may be experts in backup and recovery or email migration but that doesn't mean that they know anything about WiFi.
Our team members specialize in all things WiFi. Unlike other service providers, we've focused our efforts on wireless networking and are therefore able to offer higher quality service and research-based recommendations.
3. Respect for Clients
Other service providers suffer from identity crises and forget that they are ultimately a service company and nothing else. Made By WiFi understands that in the service business, we live and die by the quality of our reputation and our ability to consistently deliver top-notch wireless solutions. You won't find us trying to push our logo into your office or offering subpar solutions just to close a sale. We always keep client needs in mind, as they are the primary force driving our business.
4. Friendly Approach
Your office may have an IT provider already, in fact they probably setup the wireless network that you are calling us to replace. We'll gladly provide you with new equipment and leave it at that.
Traditional IT companies frequently recruit us to provide consultation and installation services for their clients because they simply lack expertise in the wireless field. It's okay to call us if you have an existing IT provider. We will not try to replace them. In fact, we'll work with them to resolve your wireless issues and provide a system that simply works.
5. Transparent Pricing
Enterprise grade wireless equipment costs more than what you'd pay for wireless equipment at Best Buy or other retail locations, that's a given. (except maybe Ubiquiti UniFi 6 Long-Range , learn more in our blog post top 4 best APs for Small Business ) Some service providers are dishonest when it comes to sharing pricing about the system that you purchase. They won't mention the cost of ongoing support, licenses, or warranties. Sometimes they'll skip that altogether and leave you with a system that's worse than whatever you had before, just to make that initial sale.
We would never do this to our clients. We focus on efficiency, not nickle and diming you for every inch of cable we use or every minute we work on your project. We take our time to explain all costs associated with your new wireless system and why you're paying for what you're paying for. Client education is huge and transparency is a big factor in earning trust and repeat business.
Small Business WiFi Network Solutions for Everyone
No matter what industry or environment you work in, we can provide you with a reliable and affordable WiFi solution that is tailored around your business' unique needs and your location's layout. There are all sorts of New York City business and properties that can benefit from a strong wireless solution. They include:
Offices
Restaurants
Coffee shops
Retail locations
Malls
Shopping centers
Small Businesses
You need the best WiFi and networking services for your business to increase employee productivity and improve customer satisfaction. You don't need an expert in-house IT staff to achieve it.
Made By WiFi's rock solid foundation is built on providing exceptional service and top quality WiFi solutions at the most competitive prices on the market.
Have an office or commercial building in New York City and need to replace a wireless system that just doesn't work? Maybe you're a new office and want to start things off on the right foot by purchasing a quality wireless solution that will grow with you and won't break the bank.
Call Made By WiFi today to set-up a WiFi site survey for your New York City location and take the next step towards excellent wireless connectivity. Also, learn more about our Managed WiFi services for Business for even better productivity.