Small business WiFi is as essential to your business as your premises. As such, you must be very intentional and thoughtful when choosing the right wireless access point for your business WiFi. For most business people, the essential factors to consider include cost, capabilities, and ease of use.
Access points come in different shapes and sizes, and you may get features with one manufacturer that you won't find in another. This is mainly because different access points are designed for different purposes and environments.
For many business access point models, you need a controller that will act as the brain for the several access points on the network. Some of these controllers may be on-site, with others in the cloud. Generally, these access points will also need additional network equipment such as firewalls and routers for network management, mounting brackets for wall or ceiling mounting, and switches for power.
You may be concerned about the cost of a small business WiFi network, considering it's more expensive than a mesh WiFi system. However, the capabilities and features you get with a small business WiFi network are well worth the cost.
There are many factors you have to consider when choosing a wireless access point for business. If you're planning to upgrade your existing business WiFi or build a whole new network, we've put together a list of small business WiFi access points to help you select the best model for your business.
Ubiquiti UniFi 6 Long-Range Access Point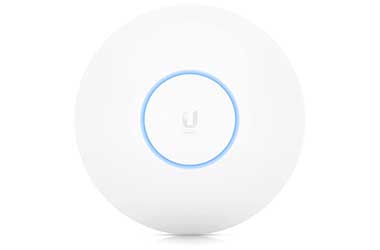 Ubiquiti is one of the most reputable brands in the industry. It's well-known for its wireless solutions delivery. Many Ubiquiti access point models can meet the needs of your small business.
Each Ubiquiti model is carefully designed to meet specific needs based on the different environments. The latest models, the U6 Long Range and U6 Lite devices, are both based on WiFi 6 technology and can support up to 300 WiFi devices simultaneously. Additionally, the OFDMA technology ensures the transmission and reception of large data amounts across several devices and increases download and upload speed.
The Ubiquiti UniFi 6 Long Range offers data transfer rates of up to 2.4 Gbps on its 5 Ghz channel. In a small business environment, multiple devices use WiFi simultaneously for high bandwidth activities like video conferencing, so you need an enhanced access point for performance and speed.
The advantages of Ubiquiti include the customization options, easy setup, and relatively low cost of entry. You can use a single Ubiquiti access point in standalone mode, but if you need more than one access point, you might have to purchase the Cloud Key controller, which centrally manages the wireless system. This controller acts as the system's brain and allows for advanced configurations and seamless roaming.
You can configure and monitor a simple Ubiquiti system from a mobile device using their app, which is available on Google Play and the Apple App Store. Lastly, Ubiquiti access points have a sleek design that you can customize with vinyl for enhanced aesthetics.
Pros
Easy setup
WiFi 6 technology
Customization options
Cloud control
Cons
Poor performance in environments with large crowds in a small area
No OFDMA on the 2.4GHz band
Ruckus Wireless Access Point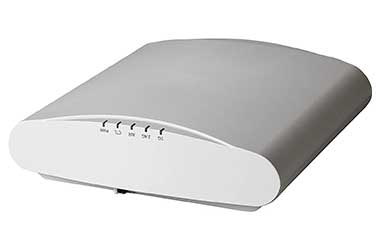 The Ruckus R850 is the latest in a long line of CommScope Ruckus Wireless access points designed as enterprise solutions. This access point is specially designed to meet the exact needs of a small business WiFi network.
If you are particular about how your access point looks, then a Ruckus model would be ideal. Their sleek designs make them easy to hide from view. Ruckus technology is based on automated radio frequency selection, so if there's wireless interference, the wireless access point automatically switches frequency, so there are no interruptions to your internet connection.
Newest business access points use WiFi 6 technology, which ensures the seamless handling of multiple devices without compromising speed and continuity. Ruckus also gives you greater control over your network traffic. You can allocate and restrict the bandwidth your users are granted based on their status.
It also comes with beamforming and mesh capabilities, which most enterprise users value. This model is specially designed with a dual-band concurrent 12 streams and can deliver up to 4.8Gbps for the 5GHz radio and 1.148Gbps for the 2.4GHz radio.
This Ruckus Wireless access point has rock-solid connectivity and is one of the most reliable APs with excellent coverage. It's also easy to manage using an app on your mobile device.
Pros
Highly customizable
Several innovative features
High scalability
Cons
Setup and configuration can be rather technical
Relatively costly
Cisco Meraki MR42 Wireless Access Point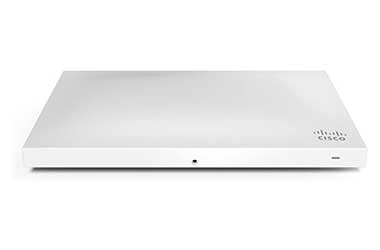 Cisco Meraki has set itself apart as the industry leader when it comes to wireless access points. The Cisco Meraki MR42 is easily one of the best wireless access point models. Like other Cisco Meraki products, it is designed for optimum performance, with enhanced security and efficiency features. The model is also easy to manage and comes with additional features with no complexity or expensive add-ons you normally find with other manufacturers.
It's a top-of-the-line cloud-managed 3×3 MU-MIMO Wave 2 access point. Designed with the latest next-generation technology, the MR42 is perfect for offices, shops, hospitals, and even schools.
The MR42 is in a class of its own, owing to its high-performance hardware, multiple radios, cloud management, and advanced software features. The model is specially designed for the most demanding use cases today and in the future. These use cases include high-density deployment and support for applications like high-definition video and voice.
The cloud management feature of the MR42 is facilitated by the Meraki cloud, which enables rapid deployment across several sites without training or expensive certifications. Since the model is easily configured and managed through the web, you can easily deploy it at a remote location, even without the help of on-site IT staff.
Pros
Increased control over your network
Easy deployment
Strong IoT integration
Cons
Mandatory license renewal
Aruba AP505 WiFi 6 Access Point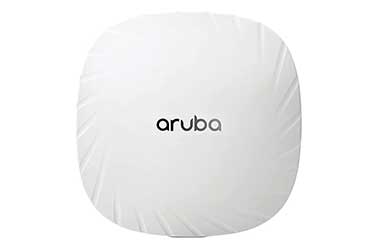 The Aruba 500 series comprises some of the best access points for business. They are designed with the latest, easy-to-use technology and have excellent range and coverage. Additionally, they do not need a dedicated controller. All you have to do is power it up, plug it into your network, and you're ready to connect.
The Aruba AP505 access point is one of the most cost-effective Gigabit Ethernet access points on the market. The 802.11ax device serves multiple clients and networks traffic types in dense environments simultaneously. Additionally, it boosts network performance by 400% compared to 802.11 ac access points.
Like any Aruba AP, you can go with the controller-based or the instant (no controller) mode. The controller-based AP505 comes with the Aruba Mobility Controller, which offers policy enforcement, data encryption, and centralized configuration. It also provides network services and distributed traffic forwarding.
In the instant mode, the control function is virtual, housed within a cluster of APs. As your network grows or the requirements change, you can easily migrate your instant deployment to controller-based mode.
The AP505's OFDMA technology offers amazing wireless capabilities and allows the system to simultaneously handle several WiFi 6 clients on different channels. All Aruba 500 series are dual radio, with 2×2 MIMO capabilities.
The Aruba AP505 is perfect for organizations that require several wireless access points deployed with simple, intuitive management.
Pros
The management system is flexible
Supports MU-MIMO for enhanced network stability
Easy setup and configuration
Cons
For the highest speeds, all connected devices must support 5GHz
NETGEAR WAC104 Wireless Access Point
NETGEAR is the industry standard when it comes to matters of networking equipment. Their product range covers storage devices, routers, NAS, WLAN devices, and more. NETGEAR wireless access points are known for their superior WiFi performance with the highest bandwidth.
Other features that distinguish NETGEAR APs include their unmatched performance in dense environments, flexible deployment, and the integrated NETGEAR Insight software. The software is used for easier user monitoring, simple device installation, and remote control of the wireless access point.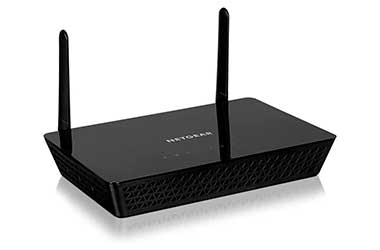 The NETGEAR WAC104  wireless access point is among the best options for small business WiFi. The device supports dual bands, the 2.4GHz, and the 5GHz, with speeds of up to 1.2Gbps. It covers up to 1000 sq. ft. and can support 64 WiFi devices.
The WAC 104 WAP has two external antennas for greater range and a stronger signal. It also supports wireless distribution, allowing it to connect with another access point. In addition, it's an affordable, functional device with excellent coverage, perfect for small business WiFi.
Pros
Easy setup
Affordable
Great speed and range
Solid stability
Cons
Tends to overheat
Not meant for medium or large business environments
When looking for the best small business WiFi access points for your business, there are several factors you must consider. Besides the cost and features, you must look at the compatibility with your business needs. As such, you have to do plenty of research to find the best fit for your business. The team at Made By WiFi can assist with WiFi consultation, installation, configuration, and on-going support.
Investing properly in your WiFi hardware is important rather than paying to fix costly mistakes later. If you're looking for a small business WiFi network but don't have the technical expertise to build the system yourself, get in touch with our team today for a free consultation.