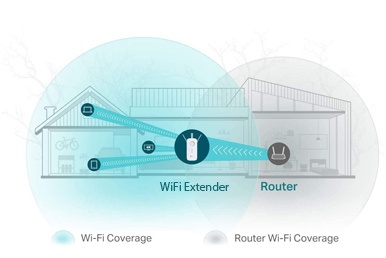 A strong and reliable internet connection has become a necessity, especially for the workplace. Even though you might be paying for fast internet speeds, your WiFi might be too weak to generate a signal that covers every room in the building. This explains why there are often dead zones and areas with a weak connection.
One of the easiest ways to combat this is to install an outdoor WiFi extender. It's a cheaper and more convenient alternative to purchasing a new router. The latest WiFi range extender models are designed to work with whatever router brand you're using to create a single seamless connection for your entire space.
Looking for the perfect outdoor WiFi extender is very similar to buying a router in that you consider the same factors, like the rated speed, the range, the system, and compatibility. We've prepared a list of some of the best long-range WiFi extenders for 2023 to help you make an informed decision.
What is the Best Outdoor WiFi Extender for 2023?
1. TP-Link AC1750 Outdoor WiFi Extender
The TP-Link RE450 is one of the overa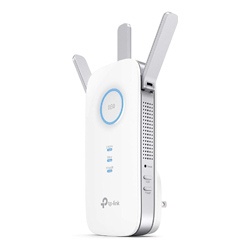 ll best long-range WiFi extenders available in the market. It provides excellent performance at a considerably reasonable price. The device delivers very good scores on all range-performance tests.
The TP-Link AC1750 is perfect for large spaces, like big homes and commercial establishments. It has the most important components of a WiFi range extender while remaining relatively affordable. One of its best features is the straightforward setup. All you have to do is pair it with your WPS router by touching the front of the extender. The button is also surrounded by an indicator light so you can tell precisely when it connects and the stability of the connection.
Speed-wise, you can expect 450Mbps on the 2.4GHz band and 1,300Mbps on the 5GHz. These are relatively good speeds and probably more than your current maximum speeds. Practically, you'll probably get 45Mbps at 50 feet for the 2.4GHz and approximately 85Mbps at 50 feet for the 5GHz band.
Note also that the TP-Link RE450 lacks WiFi 6 technology, so it's more suitable if your router also lacks WiFi 6 support. If you have many WiFi 6 devices or you plan to acquire them in the near future, you'll want to skip this one.
Pros
Very easy setup
Reasonably priced
Excellent range performance
Cons
Bulky
Lacks WiFi 6 support
2. Netgear Nighthawk EAX80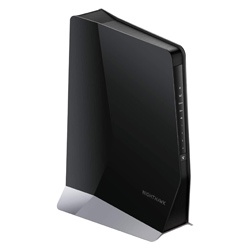 Netgear Nighthawk EAX80 is the best outdoor WiFi extender option if you're looking for a powerful device that will handle a variety of devices. While it's on the pricier side, it also comes with excellent features not offered by other extenders.
Netgear NightHawk is optimized for WiFi 6 and provides the fastest internet speeds available at the moment. With its dual-band technology, you can expect up to 6Gbps performance, making it suitable for even the heaviest-duty streaming and other needs. While the EAX80 can deliver the fastest speeds, you might have to upgrade your router. The extender only works with what the router outputs; it cannot improve your network speed.
With Netgear Nighthawk, you get support for MI-MUMO, which means you can connect up to 30 devices without any hitches. The setup is straightforward and can take less than 5 minutes using their app. You can use their web interface to access advanced controls if you're tech-savvy.
Perhaps the best feature of the EAX80 is it creates a mesh network. A mesh network is an upgraded form of extender that makes one WiFi network for the entire office instead of multiple smaller ones.
As such, you can move from one area to another without disconnection, as is the case with non-mesh extenders. This solves the problem of dead zones and areas of weak connection. You won't need to set up a new network; the extender works with the current SSID name using its Seamless Smart Roaming function.
Pros
Great performance and range
WiFi 6 support
Easy setup and advanced web interface
Cons
Very expensive
Bulky
Only compatible with WiFi 6 devices
3. Devolo Mesh WiFi 2 Kit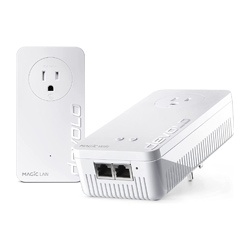 If you're looking for a complete hybrid system, then Devolo Mesh WiFi 2 fits the bill perfectly. The WiFi extender is a dual-band, but since it has Powerline, it's considered a tri-band. It is a mesh system using Powerline, so when it comes to speed, it varies based on your location.
The Devolo Mesh WiFi 2 is marketed with up to 1,200Mbps. However, you can realistically expect about 250Mbps at 20 feet and approximately 40Mbps for 35 feet and further. For optimum performance, you shouldn't go more than 15 feet away from the access point.
Powerline serves to distribute your internet speed. This means the speed you get on the wireless network will be the total speed. So if you have good WiFi, you will get excellent signals when you connect to the Ethernet ports. It's also important to note that Powerline's quality relies on your home's wiring, so you might want to replace old wiring before installation.
Devolo Mesh WiFi 2 combines the best of both worlds; standard WiFi connectivity and powerline technology. This makes it perfect for extending your network to hard-to-reach places your router cannot reach. For spaces with thick walls, this is the perfect solution.
The long-range WiFi extender outdoor has many Ethernet ports, so you won't have to worry about switching networks or moving tons of cables around to connect the gear. Additionally, if you have the technical know-how, you get more granular control of the Devolo Cockpit.
The downside with this WiFi extender is the setup is rather cumbersome. For starters, you must have all three extenders in the same room during the setup. Also, for the system to work, you must connect at least one of the extenders by Ethernet to your WiFi router.
Pros
Perfect for penetrating thick walls
Powerline technology and WiFi hybrid
 Passthrough plug
Cons
Slightly expensive
Complicated setup process
4. Netgear Powerline PLP2000-100PAS Adaptor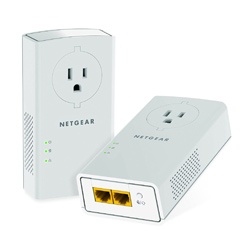 Like the Devolo Mesh, the Netgear Powerline PLP2000-100PAS adaptor is perfect for thick walls. Sometimes, even with the best WiFi networks, the thickness of the home or office walls is an issue. Thick concrete walls and structures like steel stairways can significantly reduce your network's signal strength. A powerline adaptor is a good solution for getting WiFi to the furthest corners and around major structures.
Netgear is one of the most efficient powerline adaptors, as it sends signals through the existing electrical wiring and not the air. It is also one of the fastest adaptors, offering Gigabit speeds that ensure lag-free streaming and even gaming.
Netgear is designed with an electrical outlet on the front, so you don't need an extra power outlet to set it up. It also comes with noise filtration, so you don't have to worry about affecting connectivity speeds.
One significant drawback of the device is it is wired. You need to connect the device through one of the Ethernet ports to get connectivity to the areas where you've had difficulties. Thankfully, most devices come with an Ethernet port, so setting them up should not be a problem.
Pros
Noise filtration
Relatively affordable
Great for thick walls and obstructions
Cons
Only connects using Ethernet
5. TP-Link AX1500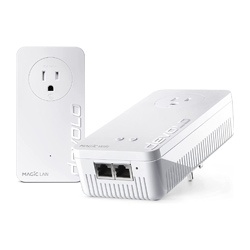 TP-Link RE505X is among the few outdoor WiFi range extenders that support the new WiFi 6. The advertised speed is up to 300Mbps for the 2.4GHz and 1,200Mbps for the 5GHz band. But realistically, you should expect about 10Mbps at 50 feet for the 2.4GHz and 200Mbps at 50 feet for the 5GHz. So ideally, the 5GHz offers much more than the 2.4GHz.
One of the greatest selling points of the TP-link AX1500 is it supports all three standards, so whether you have a WiFi 4, 5, or 6 routers, you won't have to switch for compatibility. The RE505X also supports OneMesh, guaranteeing excellent coverage if you have another compatible product to pair it with.
It comes with the standard Ethernet port and WPS button, and setting it up should not be a problem. The major downside has to do with its design. It is very bulky, which is off-putting for some people. It also lacks an outlet passthrough, so you must give up an entire wall outlet since you most likely won't plug anything next to it.
Pros
Great performance
WiFi 6 compatibility
Supports OneMesh
Cons
Final Thoughts
Before purchasing an outdoor WiFi extender, you must consider whether it's compatible with your router. The best WiFi extenders are compatible, meaning they work with any router. One problem with older routers is that they might be slower, so you might have to upgrade to a new-generation model to improve your range and speed before installing the WiFi extender. You may also like to learn some pro tips on extending WiFi range in our blog post – How to Extend WiFi Range Outside.
It's always advisable to seek expert advice on technology issues, so if you have any questions, feel free to contact us. Our experienced WiFi specialists are available to provide wireless networking and internet solutions for your business, event, or residential property in New York and all across the country.
Our mission is to provide low-maintenance, customized WiFi solutions to our clients. You need it; we've got it! Get in touch with us today to learn more.