Providing WiFi for large events, like trade shows, conferences and fashion shows can be a daunting task for even the most seasoned event producer. Lots for facilities may already have WiFi and Internet bandwidth installed, but if it's not the right equipment or if the existing networking team lacks expertise, you're going to have to bring in a WiFi solutions specialist, like Made By WiFi who can improve WiFi at large event venues.
We routinely improve WiFi at large venues and can provide a flawless wireless Internet experience for your valued guests, vendors, exhibitors and clients. There are just three steps that you can take to help us complete the process.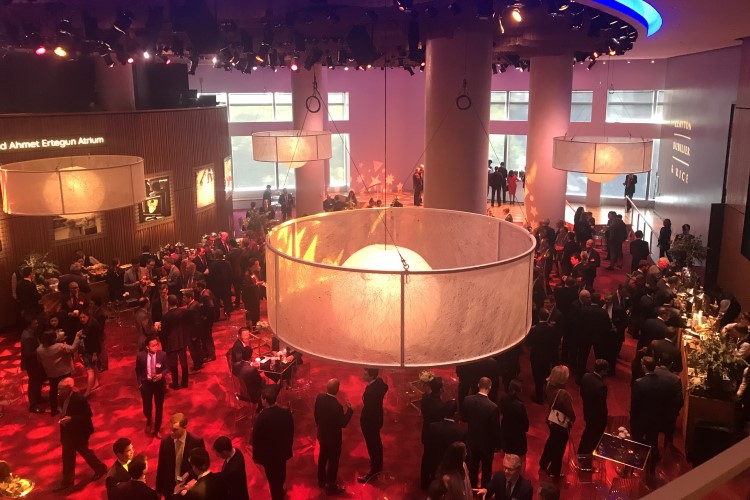 Your Large Event WiFi Checklist
When it comes to guests, they say "the more the merrier". They fail to mention all of the arrangements that have to be made to ensure that everyone on the extensive guest list has a good time. Nevertheless, you're making them. You're coordinating everything from the itinerary, to the lighting, to the menu and there are still important elements to consider.
Once you've selected a venue large enough to accommodate your guests, you need to plan the event WiFi. On top of all other responsibilities, configuring a network that can support the myriad WiFi-dependent devices that will be in use can be an overwhelming task. Fortunately, we've compiled a list of three tips for ensuring optimal WiFi at your next big event.
3 Ways to Improve WiFi at Large Event Venues:
1. Plan Ahead
You're an event producer, so of course you plan ahead. Like any proactive professional, you have a list of priorities. We're here to tell you that sorting-out the details of your event WiFi network should top it.
Consider the type of event you're planning. Is it a product launch? A fashion show? A charity gala? The answer will determine where guests will congregate, the type of WiFi-enabled devices they'll be using, as well as how they'll be using them.
For example, fashion show organizers typically want guests to share photos of those seated in the front row, the runway and everyone strutting down it to ensure the designer and collection receive maximum exposure. Whether it's the latest smartphone, tablet, wearable or TV, product launches usually require bandwidth to support demonstrations. Trade show WiFi is a whole different animal. Trade show producers are often tasked with satisfying the disparate network requests of many different exhibitors. Some may demand dedicated bandwidth delivered via hardline Ethernet connection, while others may simply request general WiFi for their staff. It's important to understand the type of event you're throwing and how Internet bandwidth and WiFi impact every moving part.
Whether or not Beyoncé is on the playlist, guests will be getting in formation. As an event producer, you know to place key vendors and advertising in high density areas to maximize ROI. WiFi should be treated the same, with increased coverage to support areas anticipating above average foot traffic.
Of course, concentration of guests varies based on event location and type. Some venues feature scenic windows or large, open areas where guests naturally drift and where event organizers are apt to place event lounges or bars. High traffic areas, such as these, require a different network approach than areas anticipating a lower density of guests. WiFi at fashion shows must be strongest near the runway, where your most high profile and influential guests are sharing content. Conference WiFi needs to be strong in common areas, where guests are meeting, exchanging information and organically promoting your event.
Another key step in your plan: an active site survey at the space performed prior to equipment deployment. This step will help you determine optimal network reach.
It's always important to let your event network provider into the space, so we can see what you're working with. If you're installing temporary event WiFi and bandwidth in a venue that doesn't have any infrastructure, it's absolutely critical. Not only will an active site survey help Made By WiFi determine the best possible placement for network equipment, it will help you, as an event manager or venue manager, determine where to place other event elements, like temporary structures or back-of-house vendors that rely on an Internet connection to provide services, such as video production and streaming.
Next, pre-cable the venue for access point additions, if necessary, and distribute Ethernet drops in strategic locations. It's always best to pre-cable the venue before the actual load-in takes place. Unlike lighting or A/V, Internet and WiFi arrangements can't be made just before show time. Large production crews often require a network connection from the moment they enter an empty event space, so that they can set up their mobile offices and start working. Pre-cabling for access points and other equipment will help expedite the wireless network installation process to have your team up and running right way. Though not always possible, some venues will allow you to come in a day early to do some cabling, as long as proper insurance documentation is provided.
This is the time to establish an Internet and WiFi budget. Setting price expectations early on can avoid future stress and sacrifice. Like any major event element, it's crucial to nail down your WiFi and Internet needs before you blow your budget on less important items.
If WiFi and bandwidth is critical to your event, you should never leave it as the last budget item.
2. Invest in the Right Network
You get what you pay for. It's an old and tired statement but it still reigns supreme, especially when it comes to networking equipment.
Upscale events demand high-end WiFi and Internet bandwidth services. A 30,000 sq ft event space filled with thousands of guests simultaneously using their devices to share their experience on social media is going to require network equipment built specifically for high density environments. We recommend Ruckus Wireless AC Wave 2 Access Points.
All equipment is not created equally, so it's very important to pick the right manufacturer and model type. Technology moves fast and you should definitely be prepared to replace your equipment in 4-5 years to keep up with the escalating wireless and Internet demands you'll encounter. Older equipment may will still work, but it likely can't compete with the performance of current high-end models.
The type of bandwidth you use also matters.Though there are some instances in which you can use best effort or cellular bandwidth for your events, those speeds are never guaranteed. If delivery of event functions rests on your network, it's important to use a dedicated bandwidth solution to guarantee performance. Take it from us: you never want to rely on best effort bandwidth for mission critical items.
3. Hire Event WiFi Specialists
An event production manager's time is best spent—you guessed it!— producing the event, not handling the network. Your role is to select the best of everything and bring it all together for one magical event. After all, you may request certain songs, but at the end of the day, you leave music to the DJ. Why should your approach to event WiFi be any different?
Having on-site technical support during an event is crucial if you want immediate changes and configurations, without any risk of failure. Having a trained wireless network engineer on-site, ready to complete last minute cable runs, real-time network configurations and immediate troubleshooting can mean the difference between your large event being a blast or a bust.
Finally, it's important to use an event WiFi service provider that you trust. Your event WiFi and Internet solutions provider should arrive prepared to complete the job without constant supervision and direction. Made By WiFi will take your ideas and run with them—providing the equipment, expertise and support to bring your event vision into reality.
Expecting a full house? You need the full support of an expertly configured and maintained WiFi network. Call Made By WiFi today to find out how to improve WiFi at your event or venue space.