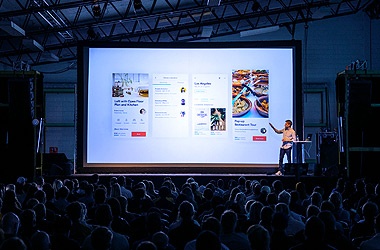 "This WiFi sucks! I can't even connect to Twitter to post about this #WiFiFail".
Don't let this happen to you. As an event planner trying to learning how to get wifi for an event, you have a lot on your plate. Event guests only see the finished product – the lights, sound, performances, meals, drinks, etc… What they don't see is the work and time you dedicate to making sure that every element is just right.
This includes the WiFi and Internet – two elements that guests are only aware of when they fail. You want to avoid #WiFiFail at all costs and to be honest, it won't cost you all that much. Ensuring optimal internet for an Event isn't rocket science. All it takes is proper planning – your area of expertise. We've been in the industry for years and have come-up with 7 tips for event organizers that will help you plan the perfect WiFi network deployment and still have plenty of time to work on other event deliverables.

1. Before looking for how to get WiFi for an event – understand why do you need WiFi?
Not every event needs WiFi. Some events are held in large outdoor spaces, like parks, where crowds are dispersed and 4G cellular coverage is acceptable. Other events call for limited Internet connectivity because of a secret special guest or the unveiling of a product not yet ready to be seen by the public. Some simply don't feature anything Internet-related. There are plenty of reasons why an event may not need WiFi and Internet but let's be clear – these events are the minority.
In reality, 9 out of 10 events will need some sort of bandwidth and WiFi service. Whether it's a trade show, conference, fashion show, concert, product launch, or something else, there are thousands of uses for WiFi and Internet, such as:
WiFi for guests
WiFi for production staff
WiFi for VIPs
Internet for media members
Payment processing machines
Registration machines
Bandwidth for network speakers
Bandwidth for network cameras
The list goes on. The best way to understand why you need WiFi and Internet as well as determine how much bandwidth you need is to create a spreadsheet. Your spreadsheet should contain all of the groups or individual users that will require WiFi and how many devices will be connecting. Speak to individual vendors requesting Internet access and discuss their needs with your temporary internet WiFi provider.
They'll use this information to determine how much bandwidth your event will require. Your spreadsheet forms the foundation of your overall event plan and will allow you and the WiFi vendor that you choose to anticipate and accommodate your needs. Conveniently, this leads us to our next tip for event organizers.
2. Choose the Right WiFi Vendor
Many companies claim to be trade show internet providers. Some companies are literally two guys in a van and others are national corporations with thousands of faceless, underpaid employees. It's not hard to purchase the equipment required to start a WiFi rental business and it's also not difficult to set-up a website to promote your services. The difficult part is finding a company that delivers services well. So, how do you choose the right provider?
By performing research and using your best judgement. Believe it or not, it's the larger, more established companies that are the worst at delivering event connectivity services. Seems counterintuitive right? Large companies are large for a reason, they have to be good at what they do. Wrong. Some large companies prioritize their bottom-line at the expense of the quality of services they deliver.
If a technician for one of these companies takes too long setting-up your wireless internet network, they risk being labeled as inefficient and unprofitable. It's in their best interest to rush the job and run back to headquarters to prepare for their next job. This cookie-cutter, financially-driven approach risks WiFi and Internet failure at your event.
If worse comes to worst, do you think you're going to get a refund? Large companies pay expensive lawyers to draft lengthy terms and conditions that you'll have to agree to before hiring them. Ever read those things? No? Spoiler alert: they favor the big corporation.
Choosing a local, specialized company, like Made By WiFi, can make a world of difference. Companies like ours are looking to build long-lasting, mutually beneficial relationships with clients as well as a stellar reputation. We take pride in providing quality service with a smile.
Do your research before choosing a provider. Ask around. Read reviews. Look for more than a trade show WiFi and Internet provider, but a partner that cares as much about your event's success as you do.
3. Learn the Language
Learn how to speak the language. This doesn't mean you have to become a certified network engineer, but it would benefit you to learn a few quick terms that will make your communication process that much easier:
SSID – This is the name of your wireless network.
Hardline – An Ethernet connection that some devices may require to connect to the web.
Splash/Portal Page – A welcome page that greets guests when they log onto the WiFi network.
Access Point – Similar to a router, it's the device that emits the WiFi signal.
Switch – A device that connects many devices together via hardline Ethernet connection.
Cat 5 or Cat 6 – The types of cable used for network deployments.
Hot Spare – A preconfigured backup device that's available on-site in case of device failure.
SLA – Service level agreement
The trade show internet provider you choose shouldn't overcomplicate things for you. If you find yourself lost in a slew of obscure network terminology, then it might be time to back away and look for a second opinion.
4. Pick The Right Bandwidth
WiFi is not the only path to temporary Internet access. You have many options. Some are very reliable and offer dedicated speeds and guaranteed connectivity. Others are best efforts with variable speeds. Of all routes to temporary Internet access, cellular connection is the least reliable. Different tiers of bandwidth service come at variable costs, offer distinctive speeds and yield different results.
For example, cellular bandwidth is the cheapest option and can be deployed with less than a day's notice, but you won't be getting any guarantees on speed or reliability and you definitely shouldn't be using cellular bandwidth for anything that you deem mission critical.
Dedicated bandwidth can be very expensive but sometimes you need to make sure that your Internet connection does not drop under any circumstances. Dedicated bandwidth typically comes with a 99.99% SLA, which means that the network won't go down for longer than 5 minutes per month. This type of bandwidth is delivered via fiber optic cable or through point-to-point microwave antennas.
If your event venue doesn't already have fiber installed, then chances are you won't be using fiber for your event. This installation process takes months and can get very expensive—this is typically not a short-term solution that you would explore for events. Most event Internet is delivered with point-to-point antennas and is typically very reliable. Installation is super quick and you can purchase speeds of over 10gbps with very low latency, ideal for video streaming. To learn about your full range of event Internet options, check out Made By WiFi's Internet Solutions article.
5. Beware Shameless Self-Promoters
Events are amazing because they bring multiple vendors together to deliver services that are typically focused on one outcome—promoting your client's brand. As we mentioned in our second point, not all the vendors are created equally. Some vendors will use your event to promote their brand without ever asking for permission.
They may require that your guests log in through their branded splash page and then collect user information for their own database. They may show-up to the event in colorful uniforms that promote their brand and clash with your carefully curated aesthetic.
We hear it all the time from the best event producers in the world. Any support staff should be wearing full black attire or "show black" while onsite. If your event internet provider insists that its team work your event in brightly colored uniforms, it's obvious the vendor is more interested in self-promotion than in getting the job done.
6. Configure Your Network Properly
In the old days, many event internet providers and venues would just create one network and tell you to support your entire event with it. This is the wrong thing to do. Guests' devices may be infected with a type of dormant malware that waits for them to connect to a public network to wreak havoc. In addition to creating a huge security vulnerability for everyone that connects to your event network, bandwidth is essentially available to anyone who wants to use it.
Sure, most people don't connect to public networks with the hope of hacking everyone's devices, but, as any event coordinator knows, it only takes one to ruin a party. Without proper network configuration these risks are very real.
Remember that spreadsheet you created? This is your network configuration blueprint. Every vendor or group of users, like guests or production staff, will be segmented into their own unique networks. These unique networks will have different bandwidth limitations, as well as communication restrictions. Guest devices, for example, will be separated in to unique VLANs per device. That dormant malware situation that we mentioned earlier? No longer an issue.
Guest devices can be limited to the amount of bandwidth they can use at any given time and are restricted from communicating with other devices connected to the same network.
7. Understand User Density
Perhaps you have an area with a bar and snacks or maybe you're throwing a fashion show and are expecting hundreds of people to gather around the runway to watch the models. People move in waves and there will be areas of your event venue where guests will tend to congregate.
These types of areas experience high density wireless utilization, so it's very important that your internet provider is using equipment meant for high density WiFi. The access points should not be older than a year and should be able to support at least 100 simultaneously connected devices.
It's also hard to predict how many devices every single user will bring as well as which types. Guest have been known to carry phones, laptops, tablets, smart watches, and network cameras into events. All of these devices have different bandwidth demands and some may even be so dated that they can't connect to the WiFi network.
Once you learn how to get WiFi for an event you would be able to properly leverage the insights
Any good event WiFi provider uses equipment that can generate detailed reports. As an event organizer, it's very valuable for you to know how many devices connected, how much bandwidth was utilized and how important your wireless network actually is. This data will allow you to make informed decisions to ensure that each of your events is better than the last.
Follow these 8 pointers to devise an Internet plan like a pro, so your guests can party like rockstars!
Many options exist but only a few companies stand-out. If you're planning an event and think that you may need WiFi for an event, contact the friendly professionals at Made By WiFi.