Before getting to the WiFi checklist, we want to make it clear that these days, it's not enough for a brand to design a product. The goal is to create an experience or – better yet – a lifestyle for customers to embrace and perpetuate. Live, highly publicized events, such as fashion shows, product launch parties and industry conventions present companies with an opportunity to create an immersive brand experience for guests.
That's where you come-in. An event production manager, you're tasked with tailoring activities, audiovisual elements and WiFi Internet to build an environment that fits the brand's image and leaves attendees wanting more.
You may have an idea of where the bar will go, you even know which lighting will complement the brand's aesthetic, but when it comes to temporary event WiFi, it's difficult to determine where to start.
Fortunately, we've compiled a WiFi checklist for events that tells you exactly where to start and how to complete the planning phase for an on brand experience.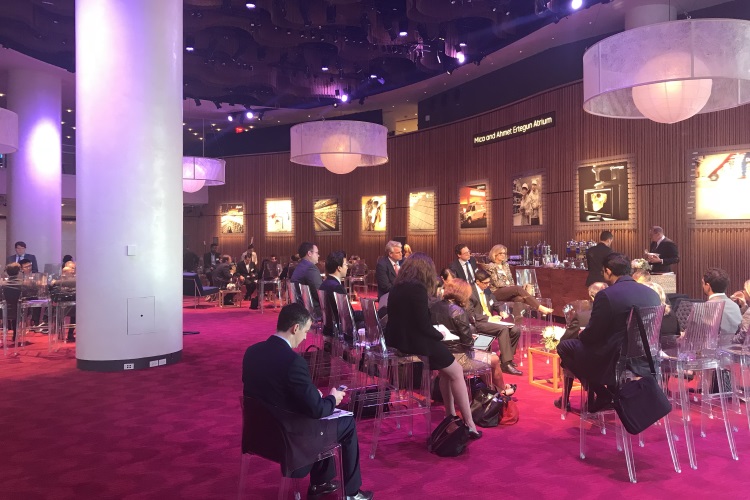 Comprehensive WiFi Checklist For Any Event:
1. Identify who will be using WiFi and for what
Know your audience. A piece of advice often offered to performers, it's a good rule of thumb for behind-the-scenes staff as well.
Your audience is everyone at the event. Attendees can include politicians, movie stars, members of the press—and that's just who is on the guest list! According to our WiFi checklist, when determining who will require Internet access, don't forget:
Production staff
Presenters
Vendors
Exhibitors
Performers
Video streaming service providers
Providers of photobooths, virtual reality stations and other interactive experiences
Now to determine how each segment of your diverse audience will be using the WiFi and Internet during the event. Common uses include:
Browsing the web
Sending emails
Updating social media statuses
Streaming video
Uploading photos
Downloading games
We recommend creating a spreadsheet. List how many people/devices from each group will be present at the event space at any given time, predict any WiFi-dependent actions and indicate on a numbered scale (1-5, etc…) how critical WiFi and Internet access for each of these attendee groups is to the success of your event.
When it comes to connectivity, different end users have different needs. Understanding these needs will help you select the right solutions and set a realistic budget. For example, an event with 250 people simultaneously streaming video could require a massive circuit higher than a 1gbps.
Alternatively, an event of similar size that does not involve any Internet-related activities may only require a circuit of 20mbps or less.
2. Learn the opportunities and challenges your venue presents
Weeks before guests arrive at an event, they are looking for directions to the venue, researching nearby hotels and restaurants and forming location-based expectations of their event experience. Then there is the interior of the space. Scenic views, high ceilings and other structural elements create unique vibes that event goers will associate with the brand long after the last guest has gone home.
Guests care about location and looks, but you must also consider the personalities and politics behind the place. Some venues feature pre-existing lighting and sound while others are large, open spaces where all technology must be brought-in from third party vendors. There are venues that encourage event producers to utilize in-house service providers and some that even prohibit you from exploring other options.
You should never be limited to a single option, especially when it comes to WiFi and Internet. A venue's exclusive in-house provider may lack the proper equipment or technical expertise.
Keep in mind: a venue that allows you to use third party providers may still place restrictions on WiFi configuration by mandating that you utilize existing cable paths and adhere to rules governing things like union labor and roof access.
Here are a few common scenarios to look out for :
Some venues already have WiFi, but their network equipment may be subpar/not meant for high density events
Many venues split WiFi access between event goers and other users, such as production staff, operations personnel, hotel guests and even random users off the street
The venue may offer Internet bandwidth, but it may not have a strong enough connection to support the needs of your event
Venues may place restrictions on which third party service providers you may use or may leverage limitations and unnecessary billing tactics to strong-arm you into going with the in-house provider
Existing venue WiFi networks' security may be lacking
Venues may require that guests log into the network through a splash page – this can actually create a marketing opportunity for your brand. Learn more about captive portal for wifi network
The venue is the foundation of your event. Choose wisely. The best decisions come from the most information, so don't be afraid to ask your contact at the venue in-depth questions about management's policies regarding Internet and WiFi.
3. Research event internet and WiFi service providers and vendors
Sure, WiFi is important, but so is audio, lighting, video, catering, décor and all of the other elements that go into your event. It's important to choose an WiFi service provider that understands that WiFi is its number one priority, not yours.
Steer clear of vendors who attempt to intimidate you with industry lingo, persuade you to go way over budget or try to shrink your one-of-a-kind event vision to fit their one-size-fits-all network configuration.
Here's what you do want from your WiFi service provider:
An on-site support team prepared to prevent any issues that may arise
State-of-the-art equipment designed for high density event environments
Unlimited network customization
Dedicated, real time network monitoring
Traffic shaping to create different tiers of service for different levels of users
Free reporting at the conclusion of your event
WiFi services providers are accountable, reliable and as invested in your event's success as you are.
4. Determine how much bandwidth you need
Unfortunately there isn't a simple equation that you can use to figure out how much bandwidth you need. There are many variables to consider, including:
Event type
Whether the event venue is outdoor or indoor
Amount of network users
User activity
Event/user location
How the WiFi is advertised
The strength of the area's cellular signals/reception
Some events require dedicated internet access for mission critical presentations or payment processing, while others get away with relying on cellular connectivity because they have very minimal needs. If you've followed step 3, you can trust your carefully selected service provider to help you determine your bandwidth needs.
5. Compare bandwidth costs
Temporary Internet access comes in all shapes in sizes. MiFi devices or 4G kits can provide cellular bandwidth, which is fine for minimal needs like connections for a few devices. However, we don't recommend it for anything that's dependant on bandwidth for success. It's simply not reliable.
Best effort bandwidth is another lower cost option, typically delivered via traditional cable and DSL providers. Though this type of bandwidth is much cheaper than its dedicated cousin, it brings a higher risk of failure. You may experience variations in speed (never in the good direction) and even extensive downtimes. For certain, low maintenance, low budget events, it may be the best option.
Of course, dedicated bandwidth with a high SLA costs more than a cellular or best effort connection, but you're paying for peace of mind. It is practically unheard of for dedicated bandwidth to drop. When the success of your event rests on its WiFi, you really can't afford a faulty connection.
Dedicated bandwidth is usually delivered via fiber or point-to-point microwave. Cost can depend on:
How much bandwidth you need
How many days you need bandwidth for
Your setup and breakdown times
General locations
The variety of providers in the area
6. Set your expectations
By this step, you will have chosen the type of bandwidth you'll be using and, hopefully, a trustworthy provider, like Made By WiFi, to deploy it. You should feel pretty confident about what you're getting into. Begin thinking about how your event will unfold and the how this will impact the network.
Some events, like hackathons or product launches, may see moments of high bandwidth use, at points when all guests are simultaneously uploading files or recording video. The amount of available bandwidth may be strained during moments of high utilization.
No worries, these types of things always clear-up if you have good equipment and the support of skilled on-site support staff. The best event planners and production managers know what to expect during the event and always stay cool under pressure. If in doubt, just refer to this WiFi Checklist For Any Event.
7. Speak with your WiFi vendor
We're people too! Seriously though, it's important to communicate your expectations and goals with your WiFi provider, so that everyone is on the same page. During the event, it's important to meet your on-site support personnel, exchange contact information and show schedules so that they know when to be ready for moments of major network utilization.
The event industry is very much relationship-based, so it makes sense to have as many friends as possible. Make sure to keep a healthy flow of communication before, during and even after the show.
If you lack technical know-how, any good event internet provider will know how to adjust their language to meet the needs of the event producer. We understand that those who regularly coordinate product launches, trade shows or other technology-centric events may have an easier time speaking tech than a fashion show production specialist.
8. Consider what new technologies will need from WiFi
Technology moves fast and waits for no one. Each day, more devices and applications become dependent on WiFi and Internet connections to function, so it's important for you, the event producer, to stay on top of the latest technology trends and prepare your WiFi network to handle the demand.
Leverage the moment and embrace the most current technological fads to keep your event and brand fresh in the consumer's mind. If you're not 100% sure what the hottest WiFi-enabled devices and apps are, refer to step #7 and contact your event internet provider!
There you have it, we hope our WiFi Checklist For Any Event will help you to plan your next event.